We want to thank everybody who visited our stand at the Infra customer days in Hardenberg.

Discover what the Stoneslinger can do for you!
The original Stone Slinger™ range is market leader for precision delivery of sand, soil, gravel, compost, mulch and other bulk loads. The Stone Slinger™ is your number one choice because of its 'custom design', the advanced control options, the fast-load cycle and guaranteed quality. The Stone Slinger™ can be fitted with a self-propelled system (optional) to allow remote control of the vehicle. An efficient choice for accurate delivery of bulk material for:
embankments, beds, road surface bases, filling in exposed cables, pipelines and drainage projects, landscape finishing, flood control, etc.
01.

Efficient

Thanks to the fast-load system of the Stone Slinger™ with the capacity to unload at the exact right spot, the Stone Slinger™ realises an efficient deployment.

It prevents manual labour such as pushing wheelbarrows or the use of a shovel loader or excavator to load or unload a truck.
03.

 Functional

The Stone Slinger™ system delivers sand, soil, compost, mulch, wood chips, gravel, etc. at the exact right location. The Stone Slinger™ conveyor accurately delivers material up to 30 metres from the end of the truck.
Eliminate the need to re-handle material.
Reduce the construction time of an object.
Soil improvement (apply compost, etc.)
Fill in pipeline and cable trenches and subsoil tanks
Bridge obstacles (e.g. roadsides, ditches, fencing and building structures)
02.

Reliable

Safe, secure and sustainable, we build each and every Stone Slinger™ with the best materials and parts produced by experienced manufacturers. Every unit is constructed on the basis of a solid construction drawing. The Stone Slinger™ carries a CE marking and can be inspected by the Dutch Road Transport Directorates RDW.
04.

 Powerful

Choose from five base models, with lots of available options. You can supply the chassis yourself or arrange the chassis through Earthmoving Solutions.

The Stone Slinger™ will be built in close consultation with you and according to your specs – 'custom designed'.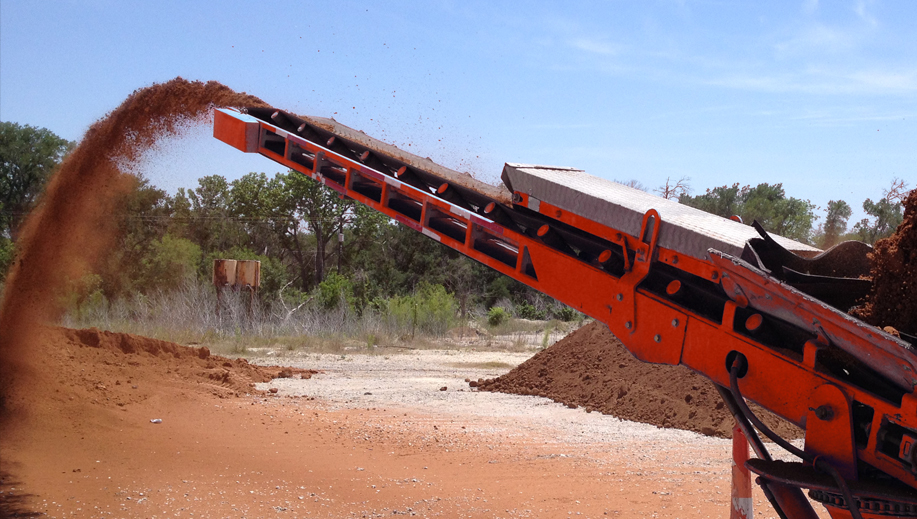 The Stoneslinger

– Unique in the Netherlands

By the advanced design of the truck body, the Stone Slinger™ can deliver a whole range of materials at the exact right location without the use of a loader/unloader or wheelbarrows. This makes the Stone Slinger™ ideal for deployment on construction sites, with road works and on locations that are difficult to reach such as embankments, across (wooden) fences and other obstacles. The material can be delivered up to a distance of some 30 metres.